So, this website moved. It isn't the citizen of a Linux box anymore but is running inside a zone on an OpenSolaris host. The only non-default software powering this server I compiled myself is a current svn snapshot of PHP 5.3.2-dev. Let's see if I can keep this system clean or whether it becomes such a mess as the old Linux box. For now I'm happy about the isolation using zones, snapshots with ZFS before playing around and DTrace in case something goes wrong
Some time ago Sun introduced it's
Sun Modular Datacenter
, also known by it's project name,
Blackbox
. As I, of course, have the need for some more computing power but have little space for a data center I had to get at least one of them. Now, after around one year of working for Sun two of them are here.
Read More
hm, I writing too many blog articles about Java maybe that's related to me not consuming caffeine anymore since two weeks or so no Coke, no coffee. Anyways I wanted just to talk about something else
Two month have passed since
the close
of the Sun-MySQL-Deal, two months of uncertainty whether it's a good idea to join Sun or not but after consulting my ElePHPant, who read the 18 pages of the contract and related documents (including MySQL termination agreement, data privacy agreement, ...), I'm quite optimistic and look ahead to a sunny future. Therefore I'll be a true Sun employee as of tomorrow, May 1st.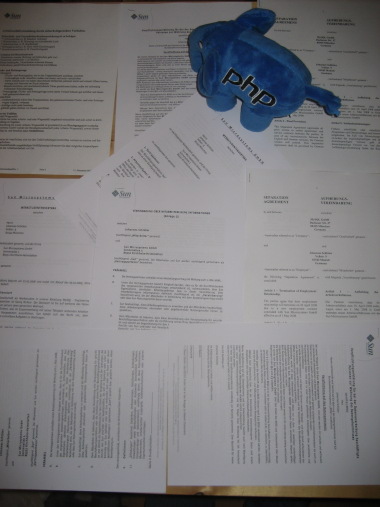 After nearly a year it was time again: The Munich Fire Fighters just visited our house. I couldn't see why but it was a full fire brigade with 4 trucks and fire fighters wearing full protection and breathing masks. Rumors say it was the third floor, again.
While browsing through the net I often find pages I like to share, but well, I don't want to spent time writing a blog article neither do I like putting the link without comment in this blog. Therefore I've created a small tool which helps me with publishing links to my new Link-Blog with a single click from my web browser. On that page you'll find any kind of stuff - I guess most of the content will be German.
So why did I create my own system instead of using del.icio.us or some service like that? - Well there are two reasons: a) It's my system and I have full control and b) in future I'll add some code which will automatically extract teasers from the linked page and add these to the list - like I already did for YouTube videos.
Rauchschwaden ziehen durch die Gassen, eine Feuer schwelt. Ja, es wurde Zeit und es roch
mal wieder
nach brennendem Holz und das recht intensiv diesaml war es der Garten gegenüber. Mal sehen was man morgen bei Tageslicht davon noch sieht...
Am Flur riecht's ein wenig verqualmt, im dritten Stock ist
die
Wohnungstür auf, ich geh schnell weiter, nein, ich denk nicht drüber nach.
My neighbor's from the third floor really like Munich's firefighters! The first time they've met was last year's September when my boss told me to go home from work since my neighbor
Manfred
called telling there was
a fire at our house
. By the time I got home the fire had already been put out and the firefighters were putting there stuff away. Except for some grime and smell my flat in at the fifth floor wasn't affected.
A few weeks later the same flat was on fire - again, not as dramatic as the first time but still annoying. Just a few weeks later I came home from work, at the corner next to the house, what did I see? - Firefighters! I have no clue what happened that time...
So, guess what happened this night.... They were back at the third floor! At around 3:30 AM I was annoyed by the noise and looked out the window and saw a complete fire-fighting team. According to Manfred they were trying to open the door of the famous flat. They left at 04:08 so I could go back to bed and fall sleep.
« previous page
   (Page 1 of 1, totaling 10 entries)   
next page »